2023 Distinguished Alum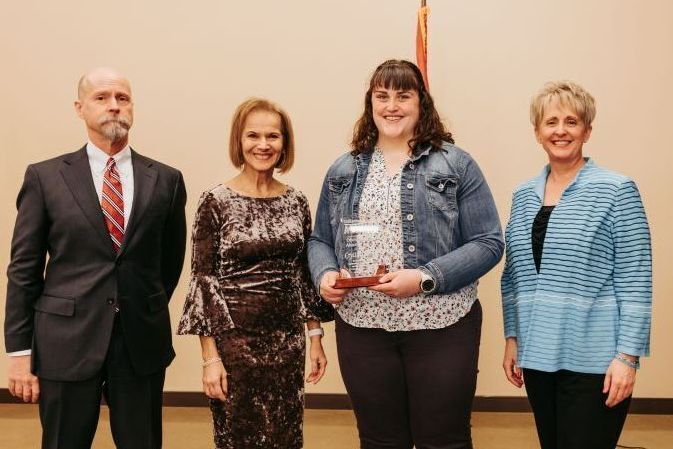 Crysta Sullivan, is a Gillette native and Family Nurse Practitioner at Hoskinson Health and Wellness. She received her doctorate of nursing practice- family nurse practitioner degree from the University of Wyoming in August of 2020 and returned to Gillette to care for the community she grew up in. She completed her Bachelor's Degree in Nursing through the University of Wyoming in 2016 while working as an RN in the community. Crysta was raised in Gillette and graduated from Campbell County High School; she then went on to attend Gillette College for her Associate Degree in Nursing in 2015. The opportunities at Gillette College provided Crysta with the foundation to further her education and career. Her experiences at Gillette College were instrumental in starting her journey to becoming a nurse practitioner and provided an excellent basis in not only knowledge but also empathy and compassion.
2022 Distinguished Alum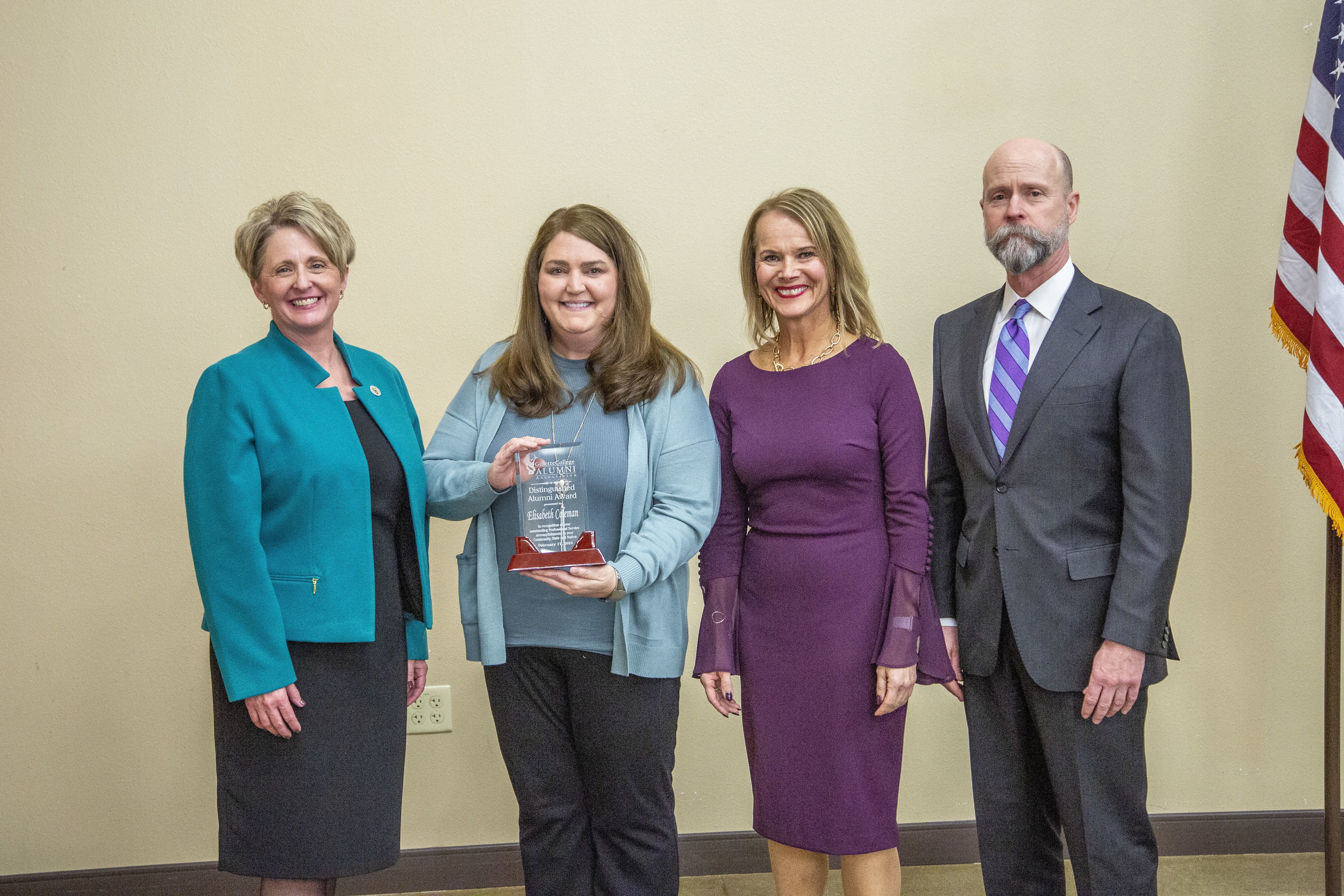 Elisabeth Coleman is the perfect example of what a degree from Gillette College can do for someone. She received a Social Sciences degree from Gillette College in 2019 with a 4.0. She then wanted to further her education and job potential by attaining a bachelor's degree in business with an emphasis in healthcare management from Western Governor's University.
She is now working towards her master's degree in Organizational Leadership and Management, also through Western Governor's University. She started working with Campbell County Health as E-Learning Specialist at the Health Sciences building, and in 2020 was promoted to Supervisor of Professional Development. She has recently been promoted again to Manager of Professional Development and Emergency Preparedness. Without earning her degree from Gillette College and having drive to continue her education, she would not be in this position today. 
2021 Distinguished Alumn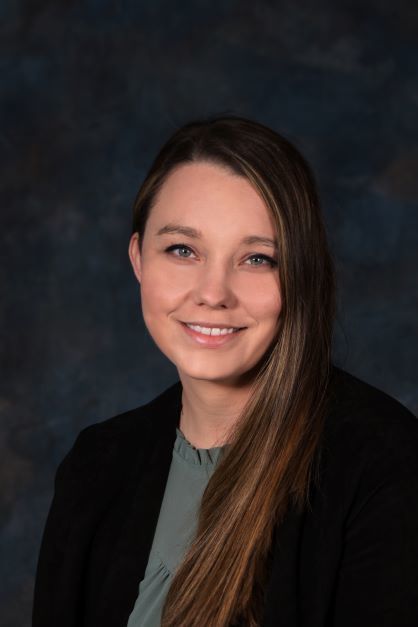 Gillette College Alumni Association is pleased to announce that Heather Wofford has been selected as this year's Distinguished Alumna. Wofford received her Associate of Applied Science degree in Nursing in 2012 and an Associate of Science degree in General Studies in 2015, both from Gillette College.
Wofford continued her education, earning a Bachelor of Science degree in Nursing.  In 2020, Wofford completed a Master of Science degree in Nursing Education from Western Governors University.
"We are so proud to honor Heather as our distinguished alumnus," said Heidi Gross, Gillette College Foundation Executive Director. "Not only has she dedicated her career to helping others, I am pleased that she has made the decision to join our College and help educate future nurses."
Wofford worked for nine years at Campbell County Health. Her nursing career began in long-term care and on a medical-surgical unit, but the majority of her experience has been spent as a perioperative nurse. Throughout her career, she has enjoyed mentoring and teaching new nurses, which led her back to Gillette College as a full-time Nursing instructor in 2021.
Along with her new career as a college educator, Heather keeps busy being Mom to six year-old son, Holden, and four year-old daughter, Molly.
2019 Distinguished Alumn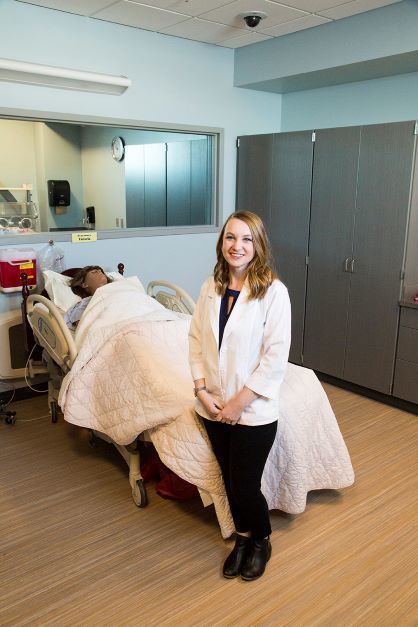 After her daughter, Rylan, was born, Gillette local Sawyer Poitra thought she would have to put her college plans on hold. Then she found out about the Nursing program at Gillette College.
"The program allowed me to stay in my hometown and be around family who could support us while I continued my education. It was a huge blessing for me that the Nursing program was here," she said.
Poitra graduated with her Associate Degree in Nursing from Gillette College in 2010 and became a registered nurse.
"I felt very prepared after I left Gillette College, not just to pass the NCLEX exam, but also to be a great nurse," she said. "The program is very hands-on and you get real experiences at local clinics and hospitals, so you're exposed to all the different types of nursing."
After she graduated, Poitra worked as a nurse at a surgery center and then became a nurse at the Women's Resource Center of Northeast Wyoming in Gillette. The Center is a non-profit medical clinic that serves women and families in northeast Wyoming. Now, she is the Chief Executive Officer and Director of the Women's Resource Center. In addition to nursing, she oversees staff, works with donors, and executes fundraising events.
"I'm in contact with a lot of young women through my work, and I try to show them that you can still be a mom and have dreams, get your degree, and be able to provide for your family," she said. "Gillette College is there to help make that happen."
Poitra went on to earn her Bachelor of Science in Nursing in 2012. She credits Gillette College with her ability to get her degree while raising her daughter.
"I definitely recommend Gillette College and the Nursing program specifically, especially for students with families," Poitra said. "If Gillette College wasn't here, who knows where I'd be today."