Sarah Crawford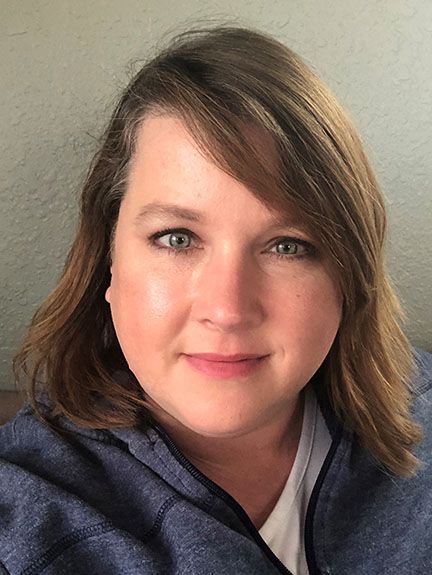 Gillette College Foundation's Scholar Spotlight!
We would like to introduce Sarah Crawford! Sarah is the recipient of the Blaine and Susi Wilson Scholarship and the Jeanette L. Heptner Scholarship – GC Nursing.
Sarah has lived in Sundance, Wyoming since she was 14 when she moved from Ohio with her family. She still lives there with her daughter, Allie who is in high school, and their two cats Roxie and Squirt. Sarah works at Campbell County Health as an LPN and is in her second year of nursing school at Gillette College. Though she doesn't have much, in her free time, Sarah and Allie like to take out their 1985 CJ 7 Jeep and go through the hills and trails hounding for rocks. Sarah says, "  My greatest find is a piece of selenite I found by Newcastle. "
Receiving the two scholarships has relieved an enormous amount of financial stress from Sarah as the cost of commuting everyday is a burden of itself. Sarah has immense gratitude for the gift of the scholarships as she knows life has enough things to worry about.  After she completes this year, Sarah plans on using her degree to continue working in the nursing field. She wants to take a short break from school to "recover from the trauma of nursing school" then continue her education to complete her bachelor's degree.  Sarah plans to be in the nursing field long term but is still deciding on what type of nursing she wants to focus on. She wants to experience different areas so she can settle in one which really resonates with her.  
Sarah is grateful for the friendships she has made while at Gillette College as they have helped her get through the trying nursing program, and she is better because of them. Her time in the nursing program showed her just how much she was used to procrastination! Being at Gillette College has helped Sarah learn how to balance priorities and manage her time, which she will be able to take with her in all of her future endeavors.
When asked what words of advice she would share with upcoming or fellow student's Sarah said, "I started college at the age of 39 because I was afraid of change, so I would encourage students to not stress or fear about the unknown but look at it as an adventure.  And don't procrastinate!"

Great Advice Sarah! Congratulations and good luck! Gillette College Foundation is thrilled to recognize you as one of our scholarship recipients.