Reina Cazabal-Boe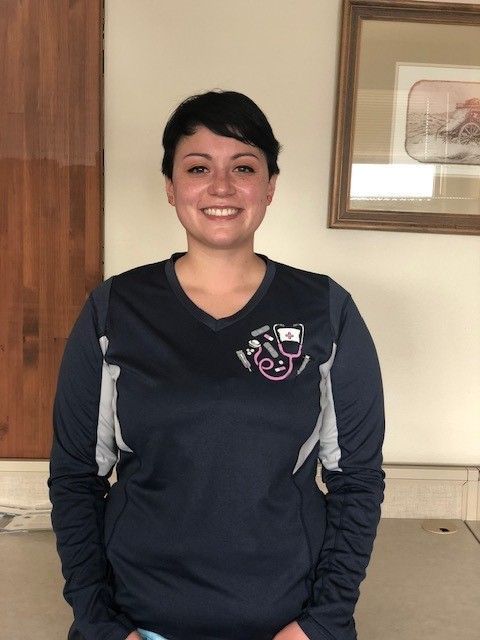 Meet Reina Cazabal-Boe!  She is the recipient of the 'GC Nursing Scholarship' award.  She is from Montana and has been a Certified Nursing Assistant for 8 years!  She loves to play with her son and two dogs, and loves being outdoors.  Reina is currently majoring in nursing and would like to get her LPN and work throughout the summer, with returning to advance towards her RN and Bachelor's Degree.  Reina is unsure which specific field of nursing she would like to pursue, but is open to many different options.  She knows that she would like to continue school in the next 10 years and obtain her Master's Degree and become a Nurse Practitioner.  She noted that it would be wise for her to get some hands-on experience while attending school, as it is easier to understand certain concepts in that manner.
This award has helped Reina with reducing her student loans.  She travels from Montana to come to Gillette every week, and this cost of this adds up!  When asked what her time at Gillette College has taught her, she responded: "To be patient with myself, be kind to myself like I am to others, and to use the community and college resources available to make better connections".  Reina also mentioned in specific to these resources our counselor, Susan Serge, and how amazing she has been to her.
Words of advice that she has for other or upcoming students are to be active in your community, whether that be your classroom, sports team, etc., because other people can give you a fresh perspective and help you learn.  In addition, others can share what has helped them, of which can in turn help you achieve your own goals!  Her favorite thing about being a Gillette College student has been all the resources available to her such as our Pronghorn Center to work out/walk, our mental health services, professors, and other students.
Congratulations, Reina!  The Gillette College Foundation is proud to recognize you as one of our scholarship recipients!