Maraia Rubin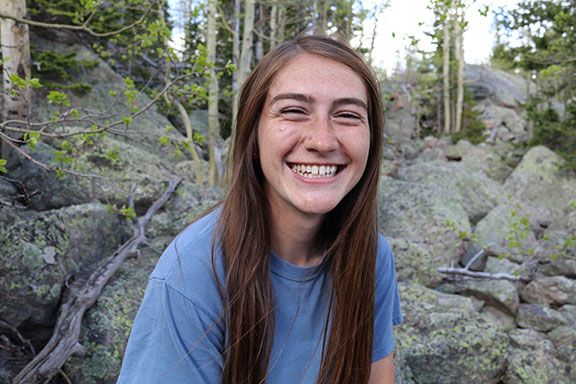 Gillette College Foundation's Scholar Spotlight!
This week we are happy to introduce, Maraia Rubin. Maraia is the recipient of the alpha Nu Psi chapter E/PTK Scholarship.
Maraia is a forward on the Gillette College Pronghorn Women's Soccer Team. She comes to us from Loveland, Colorado where her parents, brother and two dogs still live. She enjoys playing the piano, making friendship bracelets and hammocking and her favorite food is sushi!
Receiving this scholarship has allowed Maraia to put more focus on her last semester at Gillette College. She says, "  I am an athlete and a student so fitting in a job on top of all that would be very difficult. This scholarship has allowed me to go to school and play soccer without adding a job in the mix of madness. I want to thank the Foundation for giving me this amazing opportunity and support." After graduation from Gillette, Maraia plans on continuing here education in sonography to become an ultrasound technician. She hopes the next 10 years will bring an established career in sonography or radiology in a hospital or private practice. On the personal front, have a dog and possibly married with a family.
Maraia has enjoyed the small community of Gillette and Gillette College. She has been able to reap the benefits of the intimate class sizes and has become acquainted with many of the staff and fellow students at the college. Being immersed in the positive environment with not only her soccer team but the college overall has helped her excel. Maraia, like many other students, values the lessons in time management and life balance learned at Gillette College. Maraia has had the opportunity to tutor in anatomy and physiology, but also has learned to always stay dedicated to her goals, even when it seems difficult. Both great lessons she can take with her as she moves on to her next step.
When asked what advice she would pass on to fellow or upcoming students, Maraia stated, "My advice would be to just put in the time and effort into your classes and clubs at the college and it will be rewarding with how you start to develop as a person and as a professional. Everyone at the college will support you in your journey so you will have plenty of individuals to lean on."
Thanks Maraia! Congratulations and good luck on your journey.  Gillette College Foundation is honored to recognize you as one of our scholarship recipients.