Jessica Adkins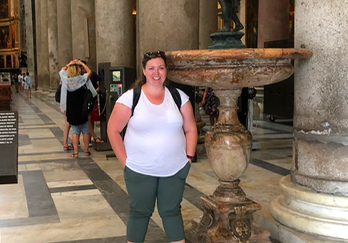 Gillette College Foundation's Scholar Spotlight!
This week our scholarship spotlight falls on Jessica Adkins!
Jessica is the recipient of the Educational Scholarship (Dyslexia Summit) and is majoring in Elementary Education. Jessica is originally from Sheridan, but hasn't lived there in many years. She has a large family, with 7 siblings and they are all very close. Jessica served a mission in Southern California, and found that to be the place for amazing Mexican food!
Jessica's goal over the next 10 years is to be able to be teaching at a Spanish dual immersion school, hopefully in Wyoming if she can; but definitely to be teaching and have a family.  After completing her time here at Gillette College, Jessica is planning on transferring to Black Hills State to their education program and possibly double major in Spanish Education as well. BHSU is close enough to home she will still be able to be close to family! Jessica knows the value of receiving this scholarship, she stated, "I didn't know if going back to school was going to be a possibility or not and receiving scholarships and grants has really blessed my life. It has been really helpful to not have to take student loans to pay for school. Now I am able to focus on school and not have to worry about paying loads of money to further my education. I am so grateful for the scholarships I have received." The opportunity to attend Gillette College has given Jessica confidence in her abilities. She is grateful for the class size and the sense of community and "home" she has experienced at Gillette College. Jessica treasures the connections and friendships she has made while attending classes, she knows these are people who she will cherish for life!
When asked what advice she has for current or upcoming students, Jessica said, " Go to class, do the work. It's okay to have fun in college but this is a big step in life. Don't waste your money. Go to class and get what you are paying for. Your parents aren't here to get you to class, so you have to motivate yourself and get there. Treat school like you would treat the job you are working towards. If you do that you can move mountains. "
Congratulations Jessica, and good luck! Gillette College Foundation is pleased to recognize you!