Mary Coleman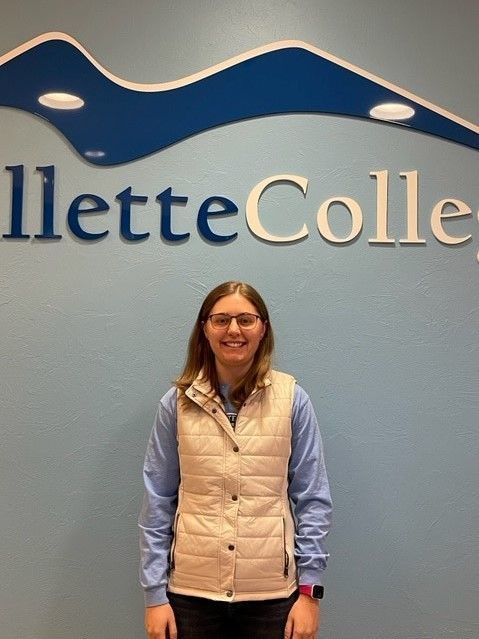 Meet Mary Coleman! She graduated from Gillette College in 2018. She has one dog, and three brothers whom she currently lives with. Mary states her family is very close-knit, and she is grateful for this. She also loves the outdoors, camping, and spending time with her family. Mary states she chose Gillette College because two of her three siblings have attending Gillette College and had a great experience. She also had heard good things about our institution and enjoyed the aspect of going to a cost-effective college within her hometown. Her favorite classes included macroeconomics, biology, and microbiology. Mary added she really enjoyed all her science labs and recalled one in which her class took water from Donkey Creek and put it under a microscope. This moment showed her how interested she was in the field! She also remembers when the Pronghorn Center building was first opened and felt excited that our college was growing.
When asked what the next steps are for her professionally and educationally, Mary stated she is a little unsure. She knows she wants to get her master's degree in the next few years and thinks she may major in Organizational Leadership and Management. Mary explained she has her bachelor's degree in Healthcare Management, and really enjoys this field as well. In the next ten years, Mary expressed a desire to have a management position of some kind. She enjoys jobs in which she can help and work directly with the public. Mary expressed that attending Gillette College was a great steppingstone for her future and how she is happy to be back as our Enrollment Specialist. She adds that the fact that she attended here as a student and is now an employee speaks to how great Gillette College is. Words of advice for upcoming students are: "Use the resources available – there are so many, and I made the mistake of not utilizing them enough. Always ask for help. There are great faculty and staff members that are available to you. Also attend the student events that are put on!". Mary's favorite thing about being a Gillette College Alumni is being able to pass down the wisdom to her family and friends. Mary explained that she loves to talk about Gillette College and how great it is.
Thank you so much, Mary! The Gillette College Foundation is proud to recognize you as a Gillette College Alumni!